Brainstorming template
by MURAL
Lead a super productive brainstorming session
Use template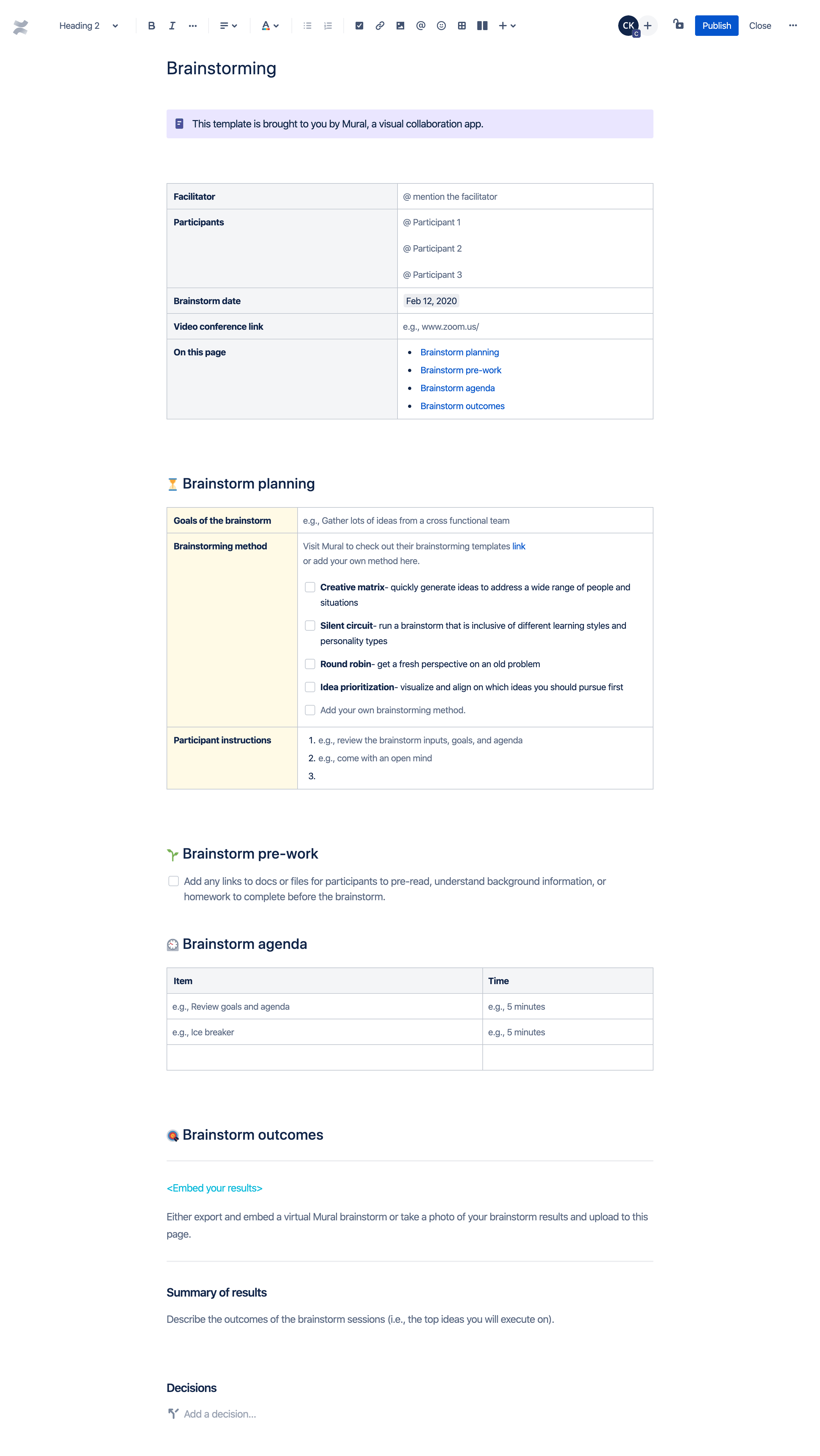 You know that your team is full of good ideas, and you want to give them ample opportunities to share them. You've put together plenty of brainstorming sessions in the past, but you feel like they've been unfocused and lead to a bunch of random proposals that you aren't sure how to move forward. This brainstorming template will help you host a productive and well-organized brainstorming session without stifling creativity and free thinking. Use it along with the visual brainstorming whiteboards from MURAL to get all of your team's brilliant ideas out in the open.
How to use the brainstorming template
Step 1. Plan your brainstorming session
At the very top of the template, record the basics of your brainstorming session. This includes the facilitator, the participants (@ mention them so they get notified), the date of your brainstorming session, and a video conference link for remote team members to join. Underneath that, you'll use the Brainstorming planning table to outline your goals, establish some expected outcomes, and provide instructions for participants before they attend your brainstorming session. Make sure to also check off which MURAL brainstorming template you're using for this session. From the creative matrix to the round robin, there are plenty of helpful ones to choose from.
Step 2. Assign some brainstorming homework
The best brainstorming sessions happen when people show up prepared. The Brainstorm pre-work section of the template gives you space to pull together resources that your participants should review before you meet. Include links to relevant documents and files, and outline any tasks you want them to take care of or points you want them to think through. Think of this as your opportunity to lay the foundation for a productive and focused conversation.
Step 3. Set your brainstorming agenda
Think that a schedule or rigid structure will only squelch your team's good ideas? Think again. Even though brainstorming sessions exist to spitball a bunch of suggestions, an agenda will keep people on track and help you meet your objectives. In the Brainstorm agenda section of the template, jot down the order of the different points you want to cover and assign a time allotment to each. Brainstorming sessions can quickly go off on tangents and spiral into irrelevant conversations, so even a loose structure will keep everybody accountable and focused on the end game.
Step 4. Capture your results
There's nothing worse than hosting an amazing brainstorming session where your whole team feels charged up and inspired – only to let all of those suggestions collect cobwebs. You want to take action on your best ideas, so use the Brainstorm results section of the template to keep a record of what was discussed during that session. Embed your finished MURAL brainstorm diagram and describe the outcomes of the session. Make sure that you highlight the top ideas you will execute on, so you can actually turn them into reality.
---
MURAL is the leading digital workspace for visual collaboration. The company enables innovative teams to solve important problems by easily creating diagrams and other visual tools.
Collections this template belongs to
More project planning templates View all
Steven Bao

R&D Program Manager
Atlassian

Business status update

Provide regular updates to leadership and the wider team on business and product performance.

Capacity planning

Take the guess work out of your estimation and prioritization.

Change management plan

Change happens, so prepare your team with a well-heeled plan they can follow.