How service request management works in Jira Service Management
Overview
Service request management is a practice that helps organizations standardize the way they respond, coordinate, and fulfill service requests.
Request fulfillment is the process of resolving a customer or employee's service request and refers to managing the entire lifecycle of all service requests.
The service desk provides the primary contact point where customers ask for help or request services.
Jira Service Management is highly configurable and can be easily set up to meet the needs of a diverse set of service delivery teams. Built on the Jira platform, Jira Service Management brings IT operations, development, and business teams together to respond to business changes and deliver great service experiences fast.
Jira Service Management offers users a single place to go for help. Through a centralized global customer portal, employees or customers can easily access every service desk across an organization, from IT Support to HR, Facilities, Legal, and Finance teams. 
Service request management projects also come with easy to edit request types and workflows, flexible service level agreement (SLA) settings, customizable queues, automated request management, email channels with adjustable notifications, and real-time reporting capabilities among other features.
The service request management process
At Atlassian, we recommend that service requests be handled as a distinct workstream to help teams focus on delivering more valuable work and better enabling the organization. While there are some variations in the way a service request can be captured and fulfilled, it's important to focus on driving standardization to improve overall service quality and efficiency.
An example of the service request process, in brief:
A customer (internal or external) requests help from your service portal or via email. For example, a new employee needs access to a specific software license to do their job. 
The service team assesses the request alongside pre-defined approval and qualification processes. If needed, they send the request for financial or business approval.
A service desk agent works to fulfill the service request or moves the request to someone who can better assist the customer, if necessary. Jira Service Management allows you to easily move requests between different team projects or create linked issues between projects for seamless collaboration. 
After resolving the request, the agent closes the ticket and consults the customer to make sure they are satisfied by collecting customer feedback. 
 
---
How to get started with service request management in Jira Service Management
Create a service project
Jira Service Management has a variety of project templates to help teams get set up quickly by creating projects tailored to a specific team or use. These templates include pre-configured request types, workflows, and other relevant features.
To create a project using a project template:
Select Projects > Create project.
Choose a service management template > Select Use template.
Name your project.
Create a project key or use the generated key.
Choose if you would want to share settings with an existing project. If yes, specify the name of the existing project.
Select Create project.
 
Add your team members
Once you have your service project established, start inviting team members. To get your team involved, start by adding each team member as agents to your service project.
Go to Project settings > People.
Select Add people.
Enter the agent's username or email.
Choose their role from the dropdown (Service Desk Team).
Select Add .
They'll get an email with a link to your project.
Customize your online portal(s) and help center
The online portal(s) and help center offer customization options that help you make sure your customers find the information they need while delivering a consistent brand experience. Available customizations include a login message, an announcement, name, logo, banner, and the home page layout.
To customize the online portal(s) and the help center:
Go to Project settings > Portal settings.
Edit your portal configuration and portal groups via their respective tabs.
Choose the relevant option, make changes, and select Save changes.
Under Customize your help center, you'll see a link to customize your help center.
 
Set up email requests
You can set up a service project email address so you can capture requests from customers who email your team with a question, incident report, or anything else in a single place. Requests that are sent to your service project's email address are automatically added to your queues, so your team can focus on customers without worrying about missing requests or managing multiple inboxes.
Jira Service Management projects come with a default email address, or you can add a custom email address that is already in use by your team.
To add a custom email account:
From your service project, select Project settings > Email requests.
Choose your email service provider and follow the prompts to link your account.
 
Configure request type forms and associated fields
Jira Service Management allows you to customize the types of service requests your project will use and the fields associated with those request types. Effective request form configuration ensures your team is collecting all the necessary information from your customers upfront to improve service delivery. 
To modify request types: 
Navigate to Project settings > Request types.
Select on the request type you would like to edit or create a new request type by selecting add new request type.
Modify the fields and information that will be displayed on the request form and agent view by using the available tabs.
Select Save changes.
Add/remove request forms to your portal groups. Navigate to Project settings > Portal settings. Select the portal groups tab to add, remove, and rearrange request forms within your portal groups.
 
---
Service request management best practices and tips
Shift left with self-service
Shifting left is the concept of moving request fulfillment as close to the front line (and the customer) as possible with a focus on self-service. For instance, a knowledge base with searchable articles can work wonders in deflecting tickets. Additionally, customizing your intake request forms to capture all relevant information upfront can also help you eliminate long back-and-forth conversations.

Customers want a single place to go for help. Centralize the help seeker experience and make it as easy to access and use as possible.  Many organizations have created a self-service portal only for it to gather (metaphorical) dust. Learn from their mistakes, and create something based on the unique culture of your organization. Remember that even if you build the most powerful self-service system, it's worthless if customers can't easily find it.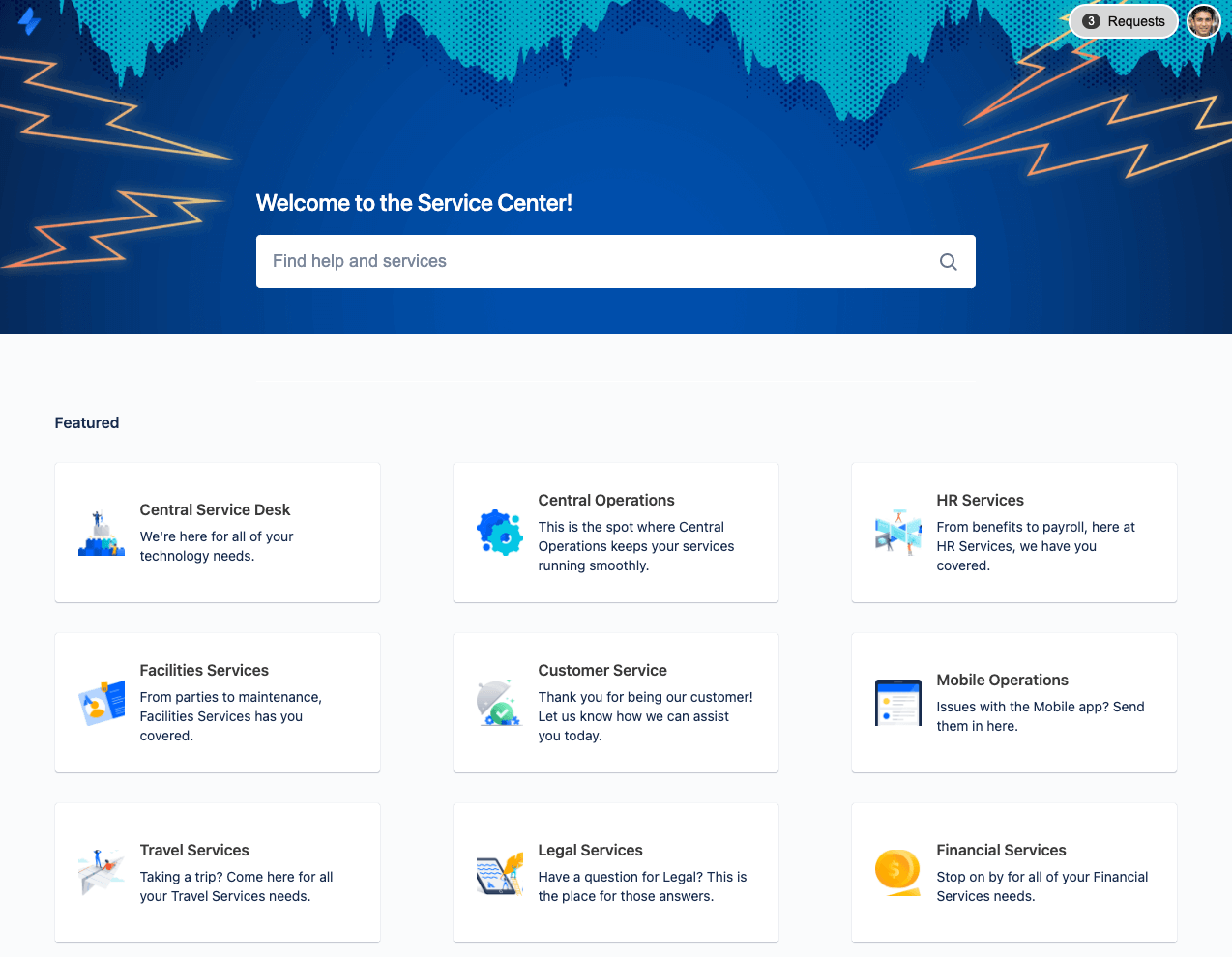 Leverage automation
When you incorporate automation into your self-service capability, you reduce the overall workload for your service team by removing common repetitive tasks.  For example, use automation to speed up the follow-up communications your agents complete manually today, improve the way you communicate with customers and employees, and keep stakeholders updated on estimated resolution times. Automated responses for certain requests provide useful information to the customer and reduce the workload for the agent.  Customers often don't know where to seek help from, and automation can also be used to route service requests to the appropriate team for expedited resolution.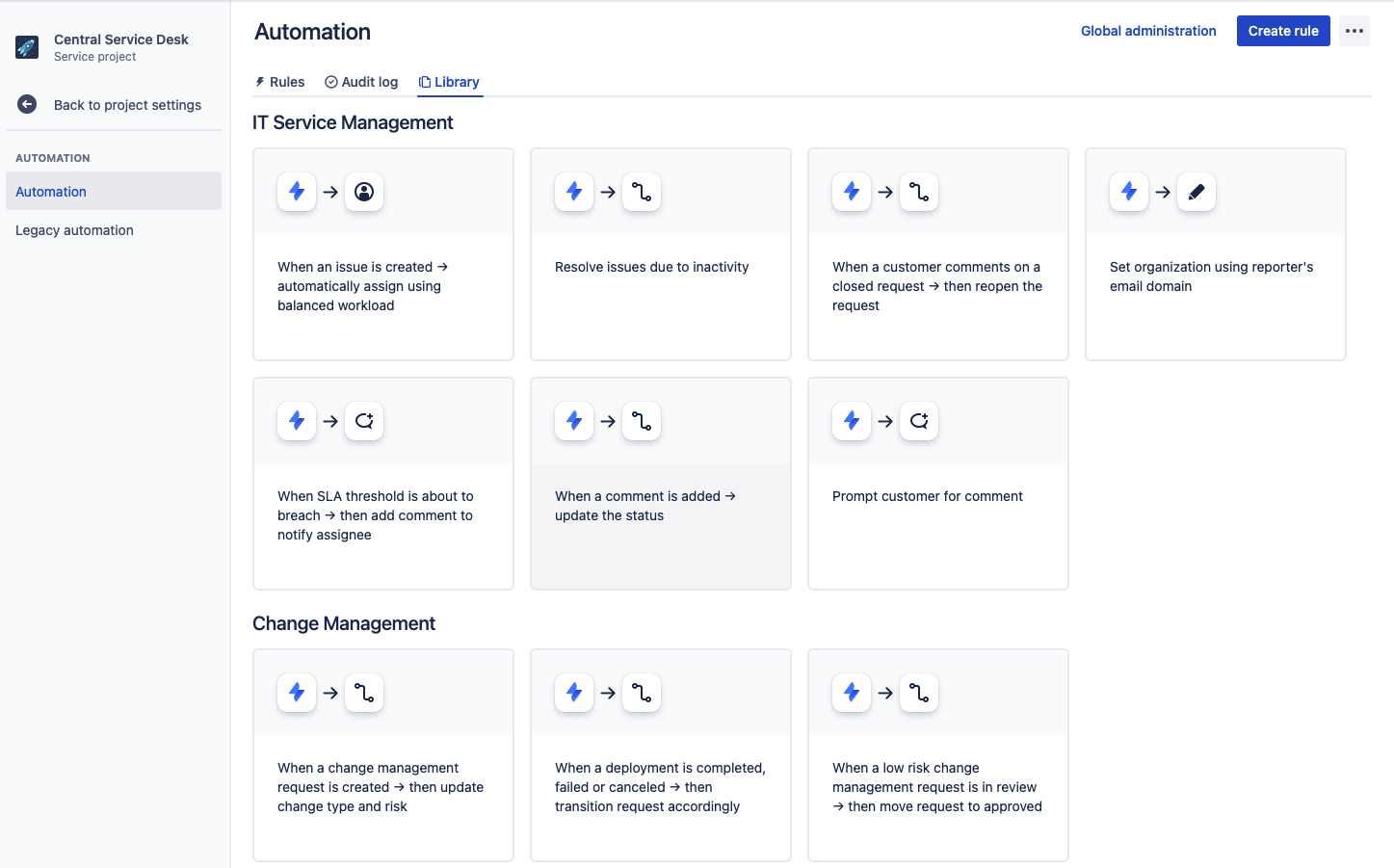 Build a knowledge-centric service portal
When support teams integrate Confluence with Jira Service Management, knowledge is put to work by deflecting requests or streamlining the request process. Designed around search, Jira Service Management uses machine learning technology called Smart Graph to recommend the right knowledge base articles and request types as users search for answers or complete request forms. The more users search in the portal, the better the results become. When support teams put answers to common questions directly at users' fingertips, they encourage self-service that satisfies customers and reduces request volume. This frees up time for agents to focus on solving more critical issues.
Jira Service Management also improves agent productivity by providing immediate access to knowledge base articles right from an issue or request. Based on the type of request, agents can choose from recommended knowledge articles or search within existing articles to respond to the user's request. With Jira Service Management and Confluence, IT teams can easily author new knowledge base articles and build a knowledge base library that fits their users' needs.
Deliver service on-the-go with mobile
With Atlassian's Jira mobile app, you and your team can stay in the know with push notifications and deliver services from anywhere. You can stay on top of your queues by quickly assigning or transitioning issues with a single swipe. Teams can get notified instantly on breached SLAs and requests that are assigned, reported, watched, and @mentioned. You can also personalize your notifications and receive only what is most important to you.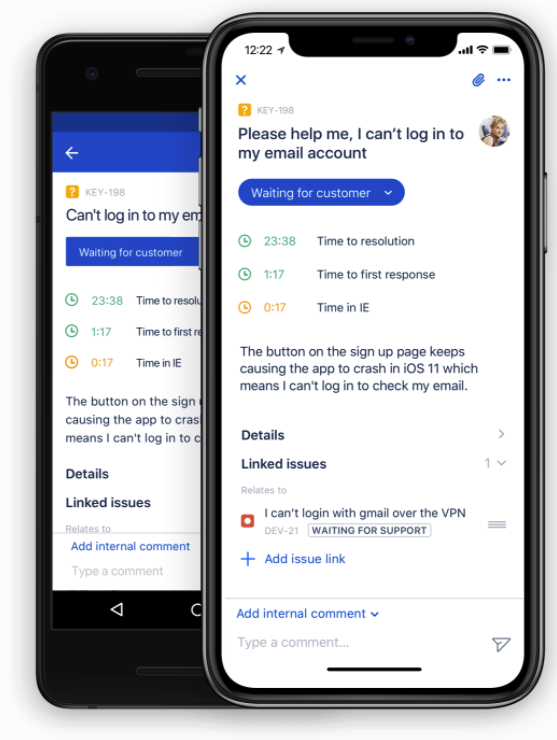 Measure your support service with KPIs
Key Performance Indicators (KPIs) are the metrics chosen to gauge how well a team performed against agreed standards, such as uptime, first-call resolution, and time-to-recovery after service outages.
Every team has different tracking and reporting needs. As a starting point, we recommend these commonly used KPIs:
Service Support Metrics
Mean time to resolve 
Mean time to respond 
Size of request backlog 
Created versus resolved 
SLA success rate 
Cost per ticket 
CSAT (customer satisfaction)
Incident Support Metrics
Incidents over time 
Mean time between failures 
Mean time to acknowledge 
Mean time to resolve 
% of incidents resolved within SLA 
% of outages due to incidents 
Uptime 
With powerful real-time reporting in Jira Service Management, you have visibility into your team's performance metrics to learn, adjust, and improve your service. Use default reports to quickly compare metrics, such as issues created versus resolved, time to resolution, met SLAs versus breached, and more. Then build custom reports to query additional data combinations.
Focus on tracking and improving CSAT
To understand users' satisfaction with the quality of support, CSAT (customer satisfaction) is an important metric to measure. Customer feedback helps identify strengths and weaknesses in service quality, engage and motivate agents to improve scores, and understand if agents need mentoring and training.
Short simple surveys are most effective in generating customer responses. Jira Service Management provides a built-in satisfaction survey, consisting of a 5-star rating with a brief comment field.
Get smart about SLAs
Service Level Agreements (SLAs) are great for tracking day-to-day progress. SLAs define agreed-upon terms for services and manage customer expectations, such as promising a response from support within 24 hours.
In Jira Service Management, teams have the flexibility to create SLA goals for just about any combination of parameters. Instead of relying on consultants for custom queries or updating hard-coded SLAs, configuring SLAs can be done in-house and changed on the fly. Don't even think about building elaborate Excel spreadsheets. Easily track SLA performance with pre-built reports that update in real-time.
Utilize Jira Dashboards
In addition to reports, Jira dashboards provide another alternative to configure and display accurate, detailed information at a glance. Dashboards can be created system-wide or shared with a group of users.

---
About Jira Service Management
Overview
Getting Started
Incident Management